B.A.T.M.A.N. - Wireless Mesh
Die Vorratsdatenspeicherung erfolgt insbesondere dann, wenn der Internet Service Provider ein kommerzieller ist - sprich ein kabelgebundener oder handygebundener Anbieter ist. Wenn sich jedoch mehrere in der Nachbarschaft zusammen tun und durch die Luft verbunden ins Internet gehen, dann muss nur einer von dieser Gruppe das Loggen im Internet ertragen. Sich kabellos, wireless "durch die Luft" mit Nachbarn zu verbinden, ist zukünftig der entscheidendste Weg, die Vorratsdatenspeicherung abzumildern.
Unter www.freifunk.net finden sich viele Communities, die am Freifunk teilnehmen und ihre Internetverbindung teilen. Technisch wird dieses mit dem B.A.T.M.A.N.-Protokoll und Programm gestaltet. Es "hoppt" die Internetverbindung über die umlegenden Knotenpunkte der Nachbarn, bis einer von ihnen einen Internetzugang anbietet.
Dazu muss das Programm auf den Wireless-Router aufgespielt werden, insbesondere die FON-Router und Linksys-Linux-Router werden dazu genutzt. An einer Windows Version wird derzeit gearbeitet, so dass auch die Funk-Chips in den Laptops angesprochen werden können.
Das B.A.T.M.A.N.-Protokoll wurde erfolgreich mit einem Wireless Chip über 3,8 Kilometer Luftlinie zwischen zwei Knotenpunkte verbunden. Bei entsprechend weiteren Knotenpunkten kann sich die Strecke entsprechend verlängern.
English description:
B.A.T.M.A.N. (better approach to mobile ad-hoc networking) is a new routing protocol for multi-hop ad-hoc mesh networks. B.A.T.M.A.N.'s crucial point is the decentralization of the knowledge about the best route through the network - no single node has all the data. Using this technique, the need for spreading information concerning network changes to every node in the network becomes superfluous. The individual node only saves information about the "direction" it received data from and sends its data accordingly. Hereby the data gets passed on from node to node and packets get individual, dynamically created routes. A network of collective intelligence is created. B.A.T.M.A.N. does have elements of classical routing protocols: It detects other B.A.T.M.A.N. nodes and finds the best way (route) to these. It also keeps track of new nodes and informs its neighbours about their existence.
In static networks, network administrators or technicians decide which computer is reached via which way or cable. As radio networks undergo constant changes and low participation-thresholds are a vital part of the "Freifunk"-networks' foundation this task has to be automated as far as possible.
On a regular basis, every node sends out a so called "broadcast" (a general message to all) thereby informing all its neighbours about its existence. The neighbours then relay this message to their neighbours and so on and so forth. This carries the information to every node in the network. In order to find the best way to a certain node, B.A.T.M.A.N counts the originator-messages received and logs which neighbour the message came in through.
In contrast to existing approaches, B.A.T.M.A.N does not try to determine the whole way, but, by using the originator-messages, only the package's first step in the right direction. The data is handed over to the next neighbour in that direction, who in turn uses the same mechanism. This process is repeated until the data reaches its destination.
Weitere Informationen:
Top

Weblinks:

Homepage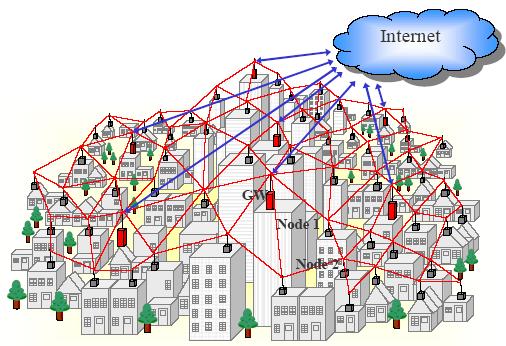 Documents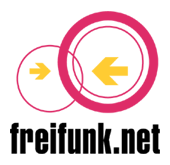 B.A.T.M.A.N.-Wikipedia